Composite Drilling Material
Composite Armor
Composite Pressing Services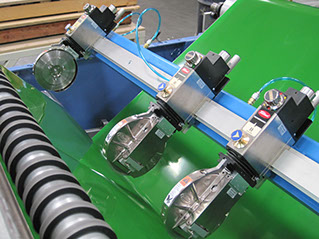 COMPOSITES
IS A
PRESSING
BUSINESS
Our primary markets are printed circuit board fabricators and contract manufacturers where our composite products are used in the production of PCBs that go into wireless, telecommunication and Internet infrastructure hardware, medical device, military and aerospace equipment.
We are located in Southern California and have become the North American leader in PCB drilling materials while also selling our products on five continents and in over 15 countries around the world. Today, we supply drilling solutions to many of the largest PCB manufacturers in the world, including Sanmina, Viasystems and TTM Technologies.
With the advancement of technology we want to stay ahead of the curve to continue this growth. Therefore, over the last several years we have made significant strides with our Technology Group since one of the most important aspects of our business is Research & Development. Continuing to improve upon our performance is critical to our long-term success so we use our laboratory to perfect existing technology and create new technology for the future. Growing our library of patents is an expensive and time consuming process that we are fully committed to making in order to do this.
At LCOA, we want to be the technology leader in composite panel development and lamination where advanced materials are required.
<back to top>
LCOA: masters of COMPOSITES
LCOA® is the technological leader for backup and entry – all to help drill a better hole.
printed circuit materials
LCOA designs and engineers advanced composite panels used in structural and ballistic applications for government, law enforcement, commercial, and personal use. LCOA manfactures vehicle armor and structural armor.
COMPOSITES: not just for electronics
<back to top>
Put our COMPOSITE expertise to use
Founded in 1969, LCOA "Lamination Company of America" brings over 40 years of expertise in Pressing, Laminating and Fabricating of Films, Foils and Composite Materials to your operation. LCOA offers the following Contract Services:
• Waterjet Services
• Flat Panel Pressing Services
• Coating & Laminating Services
• Operation Excellence since 1969
• Applications
• Materials
LCOA • 20322 WINDROW DRIVE, LAKE FOREST CA 92630 • 949.587.3300